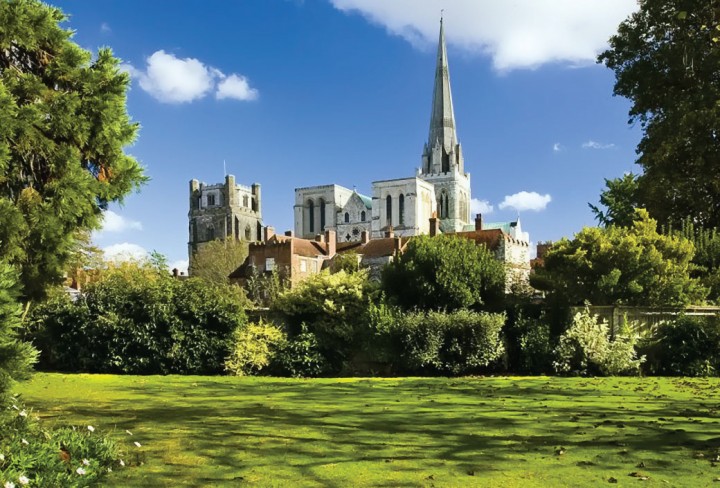 A visit to the small but perfectly-formed Chichester Cathedral, with its cloisters, cafe and shop, was a joy.

We walked about this jewel of English architecture, looked at the bright Marc Chagall stained glass window and spoke to a volunteer who said this was the epicentre of the town.
Outside, a heavily tattooed man was explaining to some Americans that history in Chichester was like a layered cake, going back to Roman times.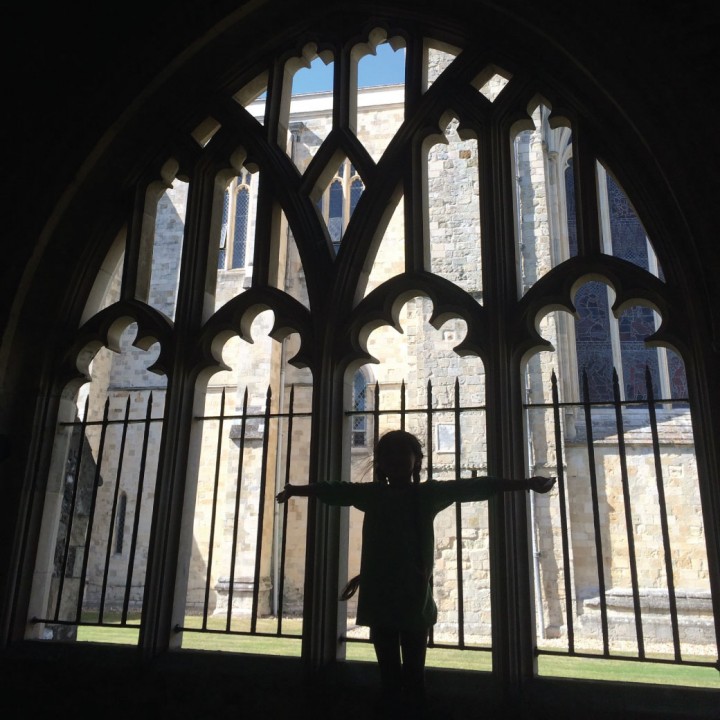 The Americans smiled and asked where he got his garish Fort Lauderdale T-Shirt from, presumably expecting a story of a holiday to the USA. "From a charity shop in Portsmouth," he replied.
Out on the main street, we visited Kim's Bookshop, which combines the new with second hand. If we're serious about saving our high streets and communities we should use our local book shops.
Kim's Bookshop is a joy. We bought Anne of Green Gables and a two-volume set of the works and times of Karl Marx. The young woman was amused at the range of our book choices. Suffice to say that the inexpensive novel for my daughter was bright, well-made and new, although half price. My Karl Marx books were printed on the flimsiest of paper imaginable. They date from the Second World War when Russia were our allies and we all loved Joe Stalin, affectionately known as 'Uncle Joe'.
I'm a sucker for anything printed on what they use to call Bible paper and a good bookshop will always bring you face to face with recent history.
We proceeded to the Pallant House Gallery, which is the subject of one of this weeks SEEs.
I suggest a day out like this. If you've got a family railcard it won't cost an arm and a leg.
Chichester Cathedral, The Royal Chantry,
Cathedral Cloisters, Chichester, West Sussex PO19 1PX
Website: chichestercathedral.org.uk

The taste of summer – just a couple of quid and a hedgerow scavenge away!
For the last three years I've lived in a house with an elderflower tree in the garden – each year I promise myself 'this year I'll make elderflower cordial' and yet I never quite get round to it.
Having finally done it and realising how simple, enjoyable (and tasty!) it is, I want to share a recipe with you and encourage you to get outside and do the same. Don't worry if you don't have one to hand ­– these big, bushy elderflower trees can be spotted all over woodlands and hedgerows throughout the UK – though you better get a shuffle on as the creamy, white flowers will soon be disappearing and re-emerging as elderberries. (More on that one in August!)
The finished product tastes incredible but the whole process is a pleasure too. There's a real satisfaction when you have gathered the ingredients straight from the hedgerows and a real appreciation that nature has provided this in abundance for us, for free. Another reminder that we need to value, protect and nurture our English countryside.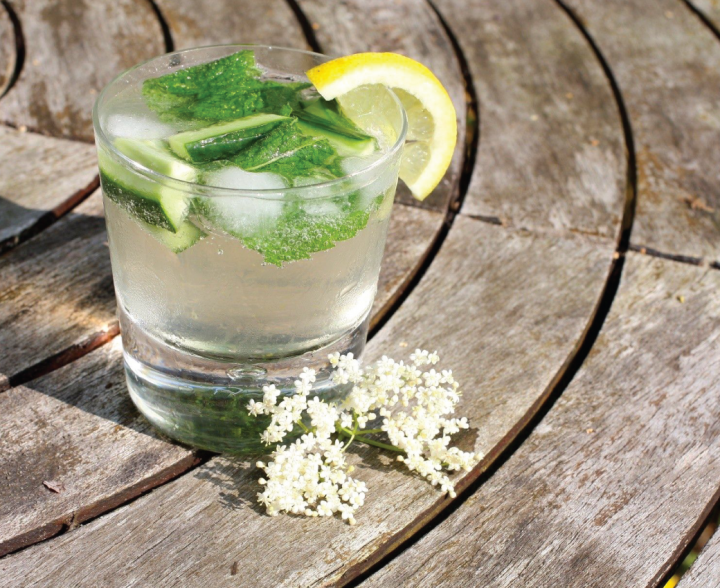 Recipe
1. Gather 25 elderflower heads. These are best picked on a warm, dry day, check for that sweet, delicate scent and use straight away. Give them a shake to get rid of any insects and rinse under cold water, then place to the side in a suitable bowl.
2. Boil 1.5 litres of water and pour over the Elderflowers
3. Add to this the zest of 3 large Lemons and an orange.
4. Cover and leave to infuse for a day.
5. Mean while you can get your bottles prepared. There's no end of beautiful looking bottles available to buy but I like to recycle wine bottles (this recipe makes enough for 3) Just scrub the label off and wash with hot soapy water. You can let these dry in the oven on the lowest temperature to sterilize them.
6. After a days infusing use a muslin bag to strain the liquid into a saucepan
7.Add to this 1kg of white sugar and the juice of your lemons and orange
8.Allow this to come to the boil and simmer very gently for a couple of minutes
9. Allow to cool slightly, then using a funnel pour the liquid into your bottles
10. Store in a cool dry place and savour the taste of summer!
Elderflower and sparkling water is lovely on its own but why not also try…
-Drizzled over salads, Ice cream or in Smoothies or jazz up the bottle with a nice tag and it makes a lovely little present.
My personal favourite though and one I must share is this deliciously refreshing summer cocktail….
1 shot of Elderflower
1 shot of Gin
Very thinly sliced cucumber slices
A few mint leaves bashed up
A squeeze of lemon and a slice.
Top up with tonic water and plenty of ice
Perfection!