Being homeless is an assault on all manner of things. Your mental health, your wellbeing, your diet, your physical body.
Being homeless knocks years off your life. And it plays games with your head. Hence all of those stop gaps, like drug use, cigarettes, super-strength lager. Getting through the day can be a terrible burden.

The late Dr Aidan Halligan said that the poorer you are the more expensive it is to cure you. And the more complex the problems with the body. But also street poverty encountering the NHS can be a nightmare for all parties.
Hence London Pathways, set up by Dr Halligan at University College Hospital in central London, was a stroke of medical genius. Following his sudden death earlier this year it now continues his vision of joining up the care and services given to homeless people coming into the hospital.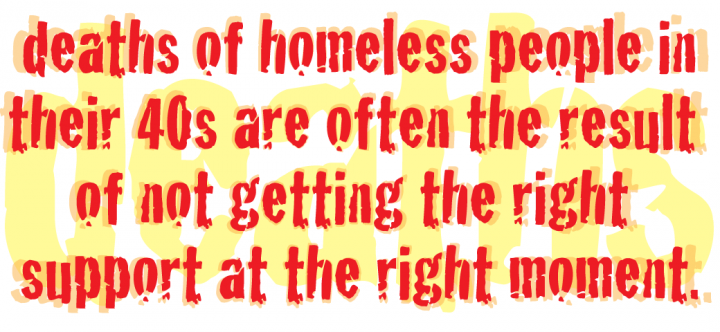 It unites knowledge around drug use and the illnesses likely to be thrown up by street living with medical intervention. And ensuring that the patient gets the best of all medical chances to improve and have a better life.
As Dr Halligan said, deaths of homeless people in their 40s are often the result of not getting the right support at the right moment.
London Pathways shows what can happen in health when joined-up support takes place. We need more pathways, for unfortunately health is a bit of a jungle for some.
For more information visit: pathway.co.uk
---

You can help rough sleepers get off the streets by becoming the eyes and ears of Outreach services
StreetLink is a service that enables the public to alert local authorities in England about people sleeping rough in their area, via telephone, their website or their app.
This service offers the public a means to act when they see someone sleeping rough, and is the first step someone can take to ensure rough sleepers are connected to the local services and support available to them.

Add this number to your mobile: 0300 500 0914. With it you can call StreetLink to help anyone you see or meet who is rough sleeping to get the urgent help they need. It has been widely quoted that 50% of the people who find themselves homeless have had no advice before this happened. StreetLink can help by immediately signposting a rough sleeper to services who they can present themselves to for help, they will also alert the nearest Outreach team to contact that person.
Both rough sleepers and the public can contact StreetLink, and they will also report back to any member of the public telling them the outcome of their contact.
Since they launched in December 2012, 31,534 referrals have been made to them. That's a lot of eyes and ears working together and a lot of very positive outcomes.


As well as adding the number or app to your phone, you can help support StreetLink's work through volunteering or donating. Visit: StreetLink.org.uk for more information.