---
Send your comments to: editorial@GoDoSeeBuy.com, or write to: GoDoSeeBuy! The Big Issue, 1-5 Wandsworth Road, London SW8 2LN or tweet to: @GoDoSeeBuy
---
John Bird joins the House of Lords
The Big Issue is delighted to announce that its founder, John Bird, has today been appointed to the House of Lords as an independent working Peer in recognition of his work as the social entrepreneur who launched The Big Issue magazine, The Big Issue Foundation and Big Issue Invest.
 
As a crossbencher, John Bird will owe no allegiance to any political party and will be free to take part in legislative debates free of the constraints of party considerations and consensus politics.
 
John's appointment by the independent House of Lords Appointments Commission is based on his life experience of the matters closest to the heart of The Big Issue: social deprivation, poverty, prison and how socially-based entrepreneurialism can make a real difference to lives.
 
Nigel Kershaw, Chair of The Big Issue, said: "At a time when there is a certain amount of controversy around some appointments to the House of Lords, I believe that John is a Lord we can all applaud."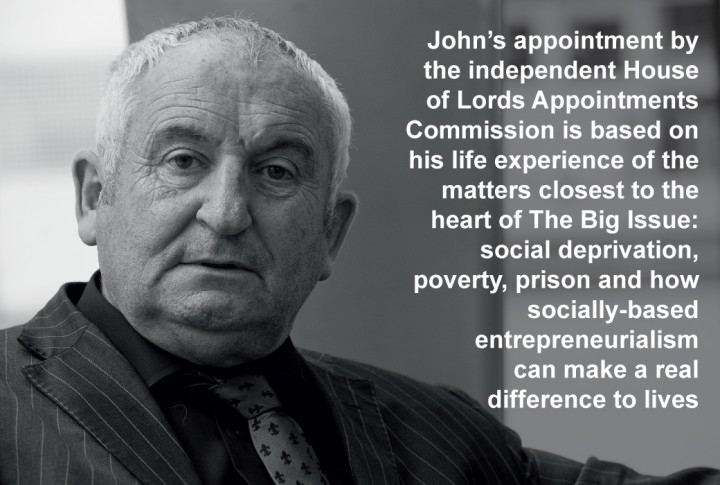 "It is a testament to his character and vision – and to the changing world we live in – that John becomes probably the first Peer ever appointed on a lifetime of experience which includes being raised as an orphan in a slum, illiteracy, sleeping rough and being jailed as a young offender.
 
"In spectacularly turning around his own life by becoming a trail-blazing social entrepreneur, John has inspired millions with The Big Issue's mission to provide a hand up to thousands of people too often forgotten by society.
 
John Bird said: "Mine will be a voice in the legislative process for the thousands of people The Big Issue has helped over the past 24 years and continues to help today through our philosophy of social entrepreneurialism based on self-help.
 
"I believe that one of the complexities of modern policy is that sometimes the best thinkers, like The Big Issue, are left outside the box. Yet if we are to have social opportunity and social justice for all, the thinking within the box needs to change."
Photo: Martin Gammon
---

Koestler Trust's National Exhibition Re:Form at Southbank Centre
Re:Form is the UK's annual national showcase of arts by prisoners, offenders on community sentences, secure psychiatric patients and immigration detainees. It is produced by the prison arts charity, the Koestler Trust and Southbank Centre.
The exhibition is open daily until November 29 2015 at Southbank Centre on the Spirit Level of the Royal Festival Hall.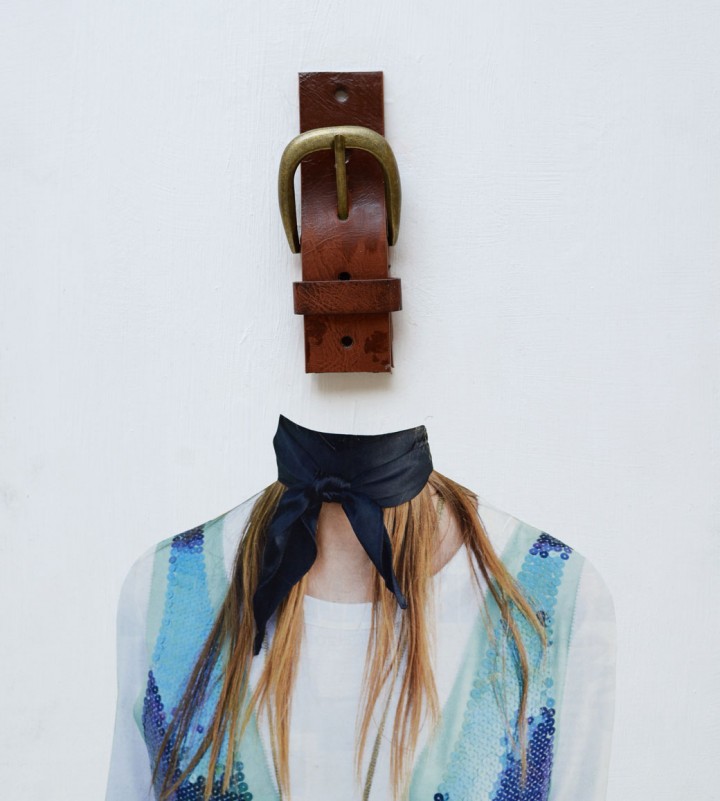 This year's exhibition has been curated by the Southbank Centre and Koestler Trust teams, selecting from over 8,400 entries to this year's Koestler Awards for arts in criminal justice. The selection includes works awarded Koestler Awards by judges including Jeremy Deller, Hot Chip, Speech Debelle and poet laureate Carol Ann Duffy. The works cover fine art, design, literature, music and applied arts and provide a unique snapshot of the creative achievements of prisoners, secure patients and detainees across the UK.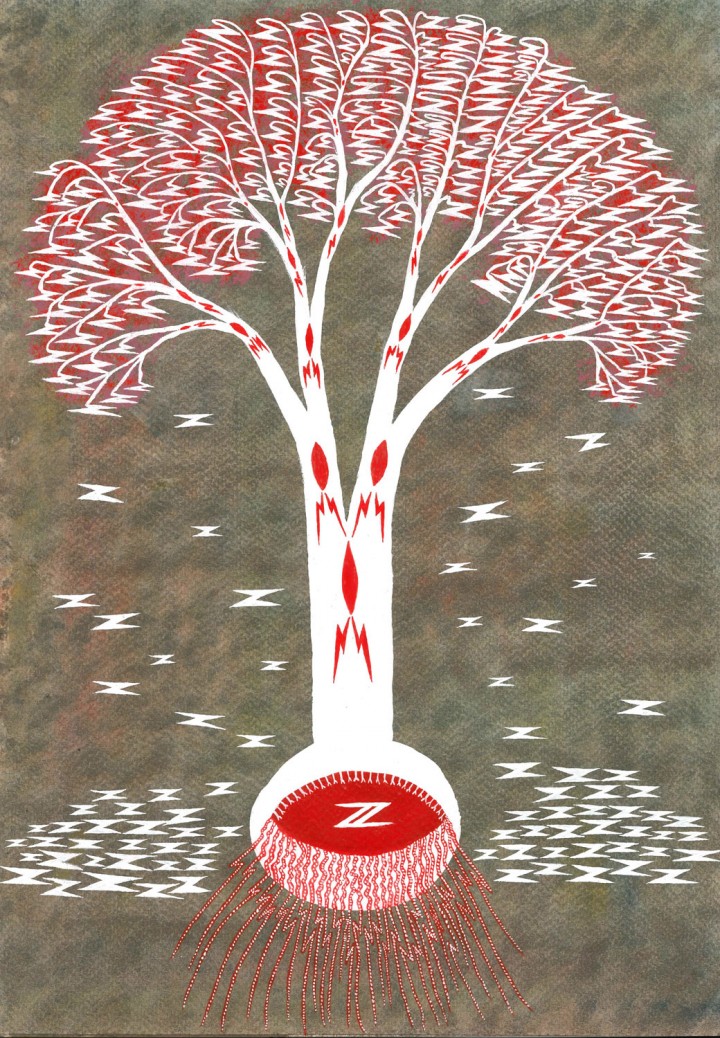 "Southbank Centre's relationship with the Koestler Trust and in particular our long association with the Art by Offenders exhibition and events is deeply cherished. We believe that everyone can be creative, whatever their background and whatever their personal story. Looking at the exceptional work which this competition never fails to produce is proof of this belief. Exploring the many entries together creates unlikely connections between people which remind us of our common humanity whatever our circumstances. We are very proud to be part of such an endeavour." Shan Maclennan, Deputy Artistic Director, Southbank Centre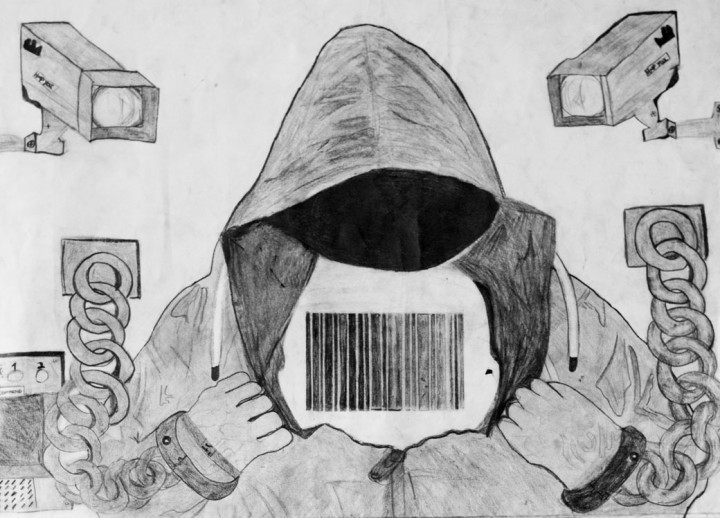 "The Koestler Trust is delighted once again to be working with the Southbank Centre to showcase outstanding work from our annual awards. This is a unique opportunity for the public to see and respond to work which would not normally be available to them, and to form their own views about it. Importantly there is also the opportunity to send their thoughts to the artists themselves through the exhibition's Visitors' Feedback cards and Awards." Sally Taylor, Chief Executive, Koestler Trust.
To present the exhibition to the public, ex-offenders have been specially recruited, trained and employed by the Koestler Trust as exhibition hosts. They will work alongside Southbank Centre staff to invigilate the exhibition and welcome visitors throughout the exhibition run. As well as gaining unique work experience and new skills, the ex-offender hosts will deepen visitors' engagement with the exhibition, enabling everyone to hear first-hand how the arts reflect and enrich the lives of people in secure and criminal justice settings. They will run free tours: Mon – Thu 1.30pm and 6pm, and Fri – Sun 1.30pm, 4pm and 6pm.
For more information visit: southbankcentre/whatson/art
Images courtesy of the Koestler Trust, from top to bottom:
Don't Be Quiet, Heatherwood Court Hospital, Felix Kelly Gold Award for Mixed Media
Sleep Fruit Tree, HM Prison Full Sutton, James Wood Q.C. Silver Award for Watercolour and Gouache
Prisoner 101115 (detail), Barton Moss Secure Care Centre, Barbara Reeve Under 18s Special Award for Drawing
---
  .If you'd like to join the Right to Read (and Write) campaign get in touch. Email editorial@GoDoSeeBuy.com or write to: Right to Read (and Write), GoDoSeeBuy!, The Big Issue, 1-5 Wandsworth Road, London SW8 2LN. Never miss campaign updates by simply signing up to receive our GoDoSeeBuy! mini-mag every week join@GoDoSeeBuy.com
---
Cartoon