Street Cat Bob and his owner, ex-Big Issue vendor James Bowen, have become a worldwide phenomenon with a clutch of bestselling books and a Hollywood film about the high-fiving feline in the pipeline.
Their story's not unique – vendors often tell the magazine about the difference their beloved pets make to their lives.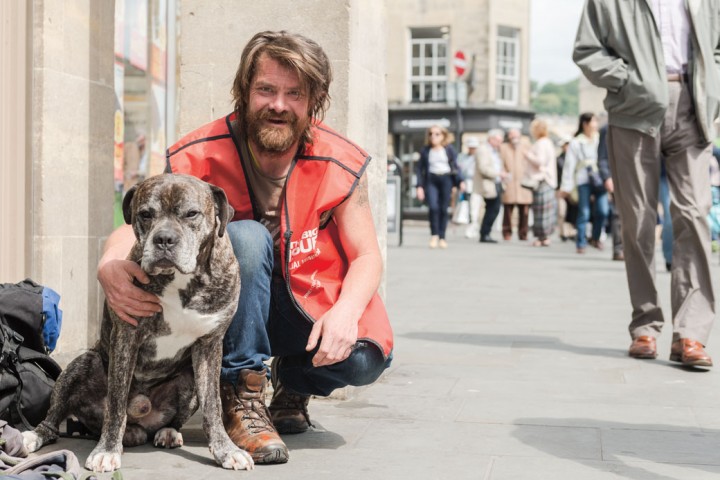 Bath vendor Posty, above, has had his cross-breed dog Scoob since 2007. "He's a very good-natured dog – better behaved than me!" says Posty.
"He sticks with me everywhere I go. I look after him, he looks after me."
Ziggy Stewart in Norwich takes his faithful friend to his pitch with him. "I've got a German Shepherd dog called Bonnie who is as popular with my regular customers as I am!"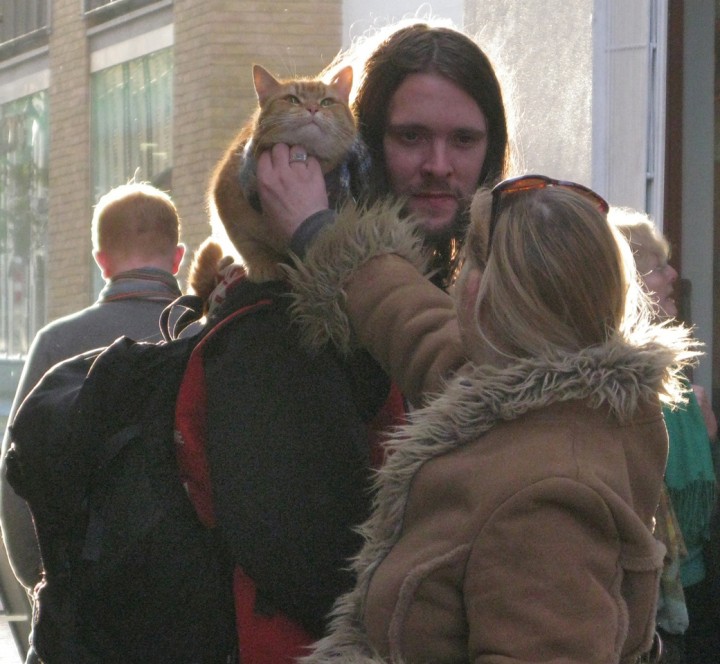 Above – James Bowen with Bob
And animals can even play a big part in the working day of vendors who don't have pets of their own. Rose Fu, who sells the magazine in Muswell Hill, looks after dogs while their owners shop. "People worry because dogs do get stolen. But the owners know they can leave them with me and I will make a fuss of them."
Graham Farrell in Taunton found his cat Boo Boo when she was a stray kitten. "She has stayed with me in my tent since I've been homeless," he says.
"She's helped me through the darkest moments. Looking after her stopped me doing something stupid to myself."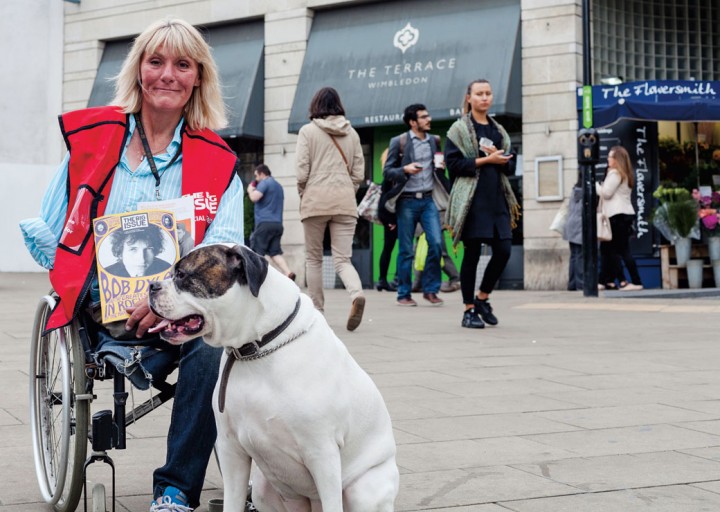 And Jane Burns, above, who sells the magazine in Wimbledon, says: "I live with my dog Caz. When she wakes up in the morning, I pull back the duvet for her to hop in. I give her a kiss and go to work."
Torquay vendor Ralph Church lost his beloved dog Jess in a road accident recently, but was overwhelmed when he realised how much others had loved her too.
"We were both part of the community here, and there were a lot of lovely flowers and cards left on my pitch after she died," Ralph says.
"I've had people crying on my shoulder – they've comforted me and I've comforted them. I've had an amazing, humbling outpouring of support and love.
"It's not easy being on my own without Jess. I miss her terribly. She saved my life during a tough time." Read more about Ralph's emotional story in Monday's Big Issue.

---
 Photos of James Bowen and Street Cat Bob by Sonya Newell-Smith – streetphotography.uk.com