Great article inspired by a presentation at our Prisons Education conference
---
Bowled over reading about STIR Magazine, assembled by ex-offenders in Scottish prisons, in this week's GoDoSeeBuy.
---
Hi guys,
Wanted to let you know how much I'm enjoying the GoDoSeeBuy! mags. Love the concept, and the content seems to get better with every edition, featuring so many innovative ideas. Such a positive, life-affirming read. Thank you – and keep up the good work!
Nicky Walter, via email
---
Club Soda want your comments!
Dear GoDoSeeBuy!
Thanks for your piece on Club Soda in last week's mini-mag.
We are working with pubs and bars in Hackney to see how we can improve pubs for people who don't want to drink or want to drink less in an evening.
If any of your readers work in a pub or bar, or the events and drinks industry, would they be interested in coming along to a workshop we are running about non-alcoholic drinks?
This workshop will involve creating ideas and looking at how we might test them. Club Soda will take the best ideas and try them out in Dalston venues – we will let you know about the results, so that you can implement them in your own pub or bar as well. We can pay you £40 for your time but space is limited (and you do need to be currently working in a bar).
Improving and cashing in on the low and no-alcohol options in the pub
September 4, 2nd Floor, Kingly Court, 49 Carnaby Street, London, W1F 9PY
1pm to 3.30pm. There are limited places.
---
   Send your comments to: editorial@GoDoSeeBuy.com, or write to: GoDoSeeBuy! The Big Issue, 1-5 Wandsworth Road, London SW8 2LN or tweet to: @johnbirdswords
---

We are working very closely with Prisoners' Education Trust, we thought we'd like to introduce you to them and let them tell you a little about their work.

The Inside Story
Prisoners' Education Trust (PET) is a charity which supports prisoners across England and Wales to study a broad range of courses in subjects and levels not otherwise available in prisons. For the past 26 years we have provided prisoners with advice, support and grants to study more than 30,000 distance-learning courses including GCSEs, A-levels, BTECs, diplomas and Open University Access modules. Our work is proven to reduce reoffending. We also work with MPs, peers and government officials to improve national prison education policies so that all prisoners have a good learning experience wherever they are.
At PET we are passionate about prisoners' right to read (and write) and many of our learners have been inspired to think and learn through reading. We gave evidence in the court case that overturned restrictions on books for prisoners because we know how important receiving a book sent from a friend is. We also want prisoners to have better access to quality prison libraries to study, join reading groups and discover great works of literature.
As PET alumnus Erwin James, Guardian columnist, says: "When I went to prison I didn't expect anything good to happen, I was ill-educated and inarticulate. Thankfully there was a library at Wandsworth prison. Reading helped me to think and then to learn. I've now been out of prison 10 years. Without books I couldn't have made the changes into the person I needed to be."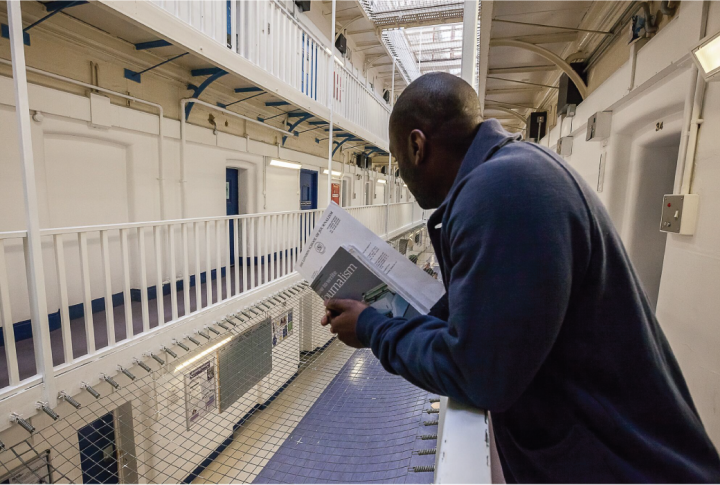 Progressing with education enables men and women in prison to keep developing their literacy and communication skills beyond "de-coding" words and sentences, leading them to be able to read and analyse textbooks, interpret and respond to assignments, structure and write academic essays, question and reflect on what they are reading and develop critical thinking skills.
PET also funds many courses that have reading at their core – literature courses, copywriting and journalism. Another of our alumni, Noel Smith, spent 30 years in and out of prison but now he is an author and a member of the Inside Time prison newspaper editorial team. He said: "Without PET, I and a lot of other prisoners would still be stumbling around in the dark. Instead, I am out of prison and putting to use what I learned on that course – working as a journalist."
Read Noel's story: prisonerseducation.org.uk/stories/noel-smith
How you can help PET with their own: GoDoSeeBuy!
Do sign up to PET Learning Matters enews 
---
If you'd like to join the Right to Read (and Write) campaign get in touch. Email editorial@GoDoSeeBuy.com or write to: Right to Read (and Write), GoDoSeeBuy!, The Big Issue, 1-5 Wandsworth Road, London SW8 2LN. Never miss campaign updates by simply signing up to receive our GoDoSeeBuy! mini-mag every week join@GoDoSeeBuy.com
---
Cartoon